At Monahan Law Firm, our Glendale child custody lawyers understand the delicate nature of a custody dispute. We are dedicated to treating child custody disputes with the respect, patience, and compassion they rightfully deserve. Whether you are facing a divorce or legal separation, a child custody case be an emotional and difficult time.
Contact us today so we can help you go through this difficult process. We will be by your side each step of the way and we will do everything legally and ethically possible to get you the results you and your family need.
Here are some common questions people have before embarking on this process. 
Types of Child Custody Arrangements
There are two types of custody, legal custody, and physical custody. The rights of legal or physical custody can be shared jointly between the child's parents or given solely to one parent. 
Legal Custody
Legal custody refers to a parent's rights to make legal decisions for the child. This pertains to things like medical, education, and religion. In Arizona, legal custody is also known as legal decision-making. Common orders dealing with legal decision-making include joint, joint with final decision-making authority, and sole.
In Arizona, it is presumed to be in the best interests of the minor children that the parents exercise joint legal decision-making. However, each case is evaluated on its specific facts to determine how legal decision-making should be ordered.
Physical Custody
Physical custody is also known as parenting time. The general rule is that it is in the best interests of the minor child(ren) that both parents maintain continuous and meaningful parenting time with the children.
There are many different parenting schedules available to parents and some commonly ordered by the courts: Planning for Parenting Time: Arizona's Guide to Parents Living Apart (azcourts.gov).
However, each situation is unique and requires an in depth look into each family dynamic. Arizona law provides one statutory scheme to assist the courts in awarding legal decision-making and parenting time-View Document (azleg.gov).
Joint Custody
Joint custody is when legal and/or physical custody is shared between the parents. All sorts of parenting plans can be made with joint custody. Arrangements could vary anywhere from one parent being limited to supervised visitation rights while the other retains primary custody to both parents sharing legal rights and alternating weeks and holidays with the child or anything in between. 
Sole Custody
Sole custody is when one parent retains the legal and physical custody of the child. This is awarded in serious cases such as instances of child abuse, neglect or endangerment.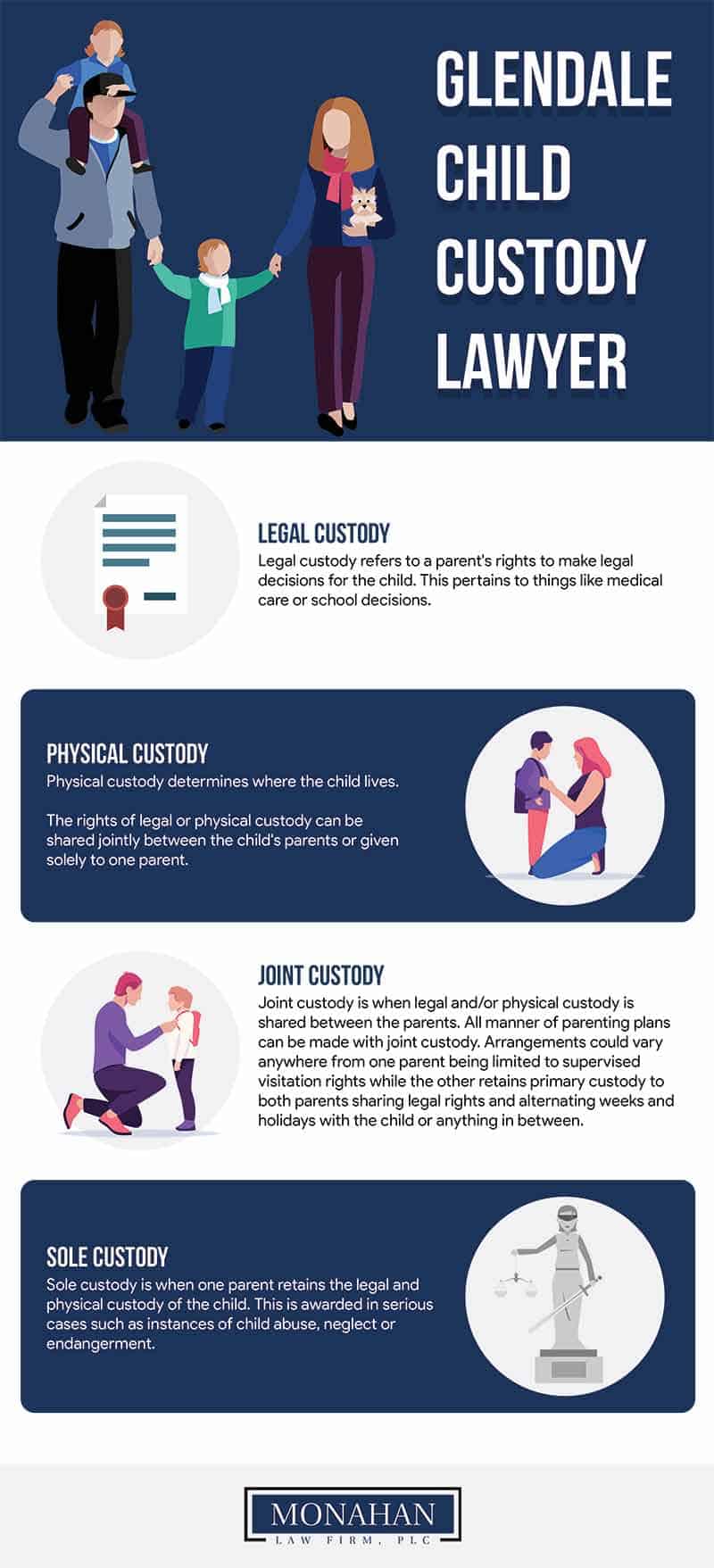 How Does Court Determine Child Custody?
The court's goal is to keep both parents actively involved with the minor children. However, that may not always be feasible given the family dynamic. In the state of Arizona, the court enforces the law impartially and equally to both mother and father.
In the state of Arizona, there is no preference for mother over father. A family law judge is obligated to do their best to develop a joint custody agreement between caregivers but will order sole legal custody in cases that endanger the minor child, such as domestic violence. 
In child custody disputes, each parent is assessed for their ability to care for the child. The court is looking to determine that each provider is a fit parent. Factors like income, home environment, mental and physical health, criminal records, community support, and in some cases the child's preference are taken into account when considering how custody should be arranged.
If one parent is deemed unfit to care for the child in any capacity, the other may be awarded sole legal custody. A judge will do their best to come to some sort of child custody agreement where the child can see both parents, but in rare cases, the judge may find that one parent is a risk to the child's health.
A child custody attorney will work by your side to navigate the sensitive and complicated issues that may arise during a legal battle. Legal representation will give you the best shot at obtaining a favorable outcome.
Can a Child Choose Which Parent They Live With?
Arizona law does not formally permit a minor child to choose which parent they live with. In some cases, the child may be asked about their preference and that will be considered when finalizing the parenting plan. If a child is over the age of 18, they may choose which parent they want to live with as the court no longer has jurisdiction over their custody.
Can You Change a Custody Order?
Either parent can file a petition to the family court system to alter a custody arrangement. With that petition, the parent must submit an affidavit outlining "adequate cause" to have the custody order modified.
An adequate cause must prove that one parent is a danger to the child's physical, mental, emotional, and moral health. Another admissible reason to have custody arrangements altered is if one parent is not respecting the terms of the initial order. 
If evidence that the child is being harmed is not proven, the petition will be denied. If it is accepted, there still remain some complicated proceedings to have the "legal decision making and parenting time" order modified.
Why You Should Get a Lawyer For a Custody Case
If you and your child's other parent cannot reach a custody agreement on your own, you should contact a Glendale family law attorney to mediate the process.
It is important to remember that even if matters begin civilly, such personal dealings can become emotional and bitter quickly and it's best to have a legal team on your side. The child's safety and well-being is the most important factor in a custody case but can be forgotten when two parents cannot see eye-to-eye. 
If you believe your child is unsafe with the other parent, you should urgently seek the legal guidance of lawyers to expedite the process of establishing parenting rights. Do not hesitate. 
The family law lawyers at Monahan Law Firm provide affordable representation that achieves favorable solutions for your family issues. We understand that divorce and the ending of relationships is a difficult experience that must be handled with care.
Contact us today to book your initial consultation with our experienced attorneys and begin the process of outlining parental care that will have the most benefit for your child and bring you peace of mind.