At Monahan Law Firm, our legal team has broad experience in all aspects of child support cases. We will bring this to bear to help negotiate child support agreements and draft effective solutions to custody and support disputes. Contact our Glendale child support lawyers today online or call us to schedule an appointment for a confidential consultation to see how we can help you!
Arizona law has established guidelines that control the amount of child support to be paid depending on a number of factors surrounding the family. Due to this, working with experienced attorneys is a must for anyone attempting to navigate a child support case and make informed legal decisions.
We will be able to explain all the rules and regulations to you in clear terms and help you avoid common mistakes that can cost you both time and money.
Which Parent Will Have to Pay Child Support?
Determining which parent will have to pay child support is simple in the majority of cases. It will usually come down to the non-custodial parent to make support payments to the custodial parent. Providing child support is a legal obligation for any parent to continue providing care for their child, even after a marriage has ended.
With that being the case, there are circumstances in which the custodial parent may actually be required to pay child support to the non-custodial parent. Your child support obligation is calculated to meet the needs of raising a child, including health and educational expenses, based on the income levels of each parent.
In cases in which one parent has sole custody of the child, determining who will pay child support is almost always a simple decision that puts the responsibility on the non-custodial parent. For parents sharing joint custody, it can take a little extra work. It is important to note, however, that it is extremely uncommon for there to be no support payment one way or the other.
Both parents would have to have the same income level and the same amount of time spent with the child for child support to be level. In most joint custody cases, one parent will have a higher income or spend more time with the child than the other which will help determine the support obligation.
Child support law can be complicated and difficult to understand for anyone unfamiliar with it. At Monahan Law Firm, our family lawyers are prepared to answer all of your child support questions and help you make informed decisions.
How Child Support is Determined in Arizona
A child support obligation in Arizona is calculated based on the income of each parent, the number of children in the family, and child care costs. These criteria are used alongside child support guidelines set in place by the state to determine the amount owed by the paying parent and the breakdown of additional costs including medical care and child care.
An experienced child support lawyer will be able to help you determine what child support obligation you can expect from the court decision. There are additional factors that can influence the amount to be paid, including:
Custody agreements and the division of parenting time
Extent spousal maintenance payments as directed by a separate court order
Prior child support payments
Familiar standard of living
Travel and transportation costs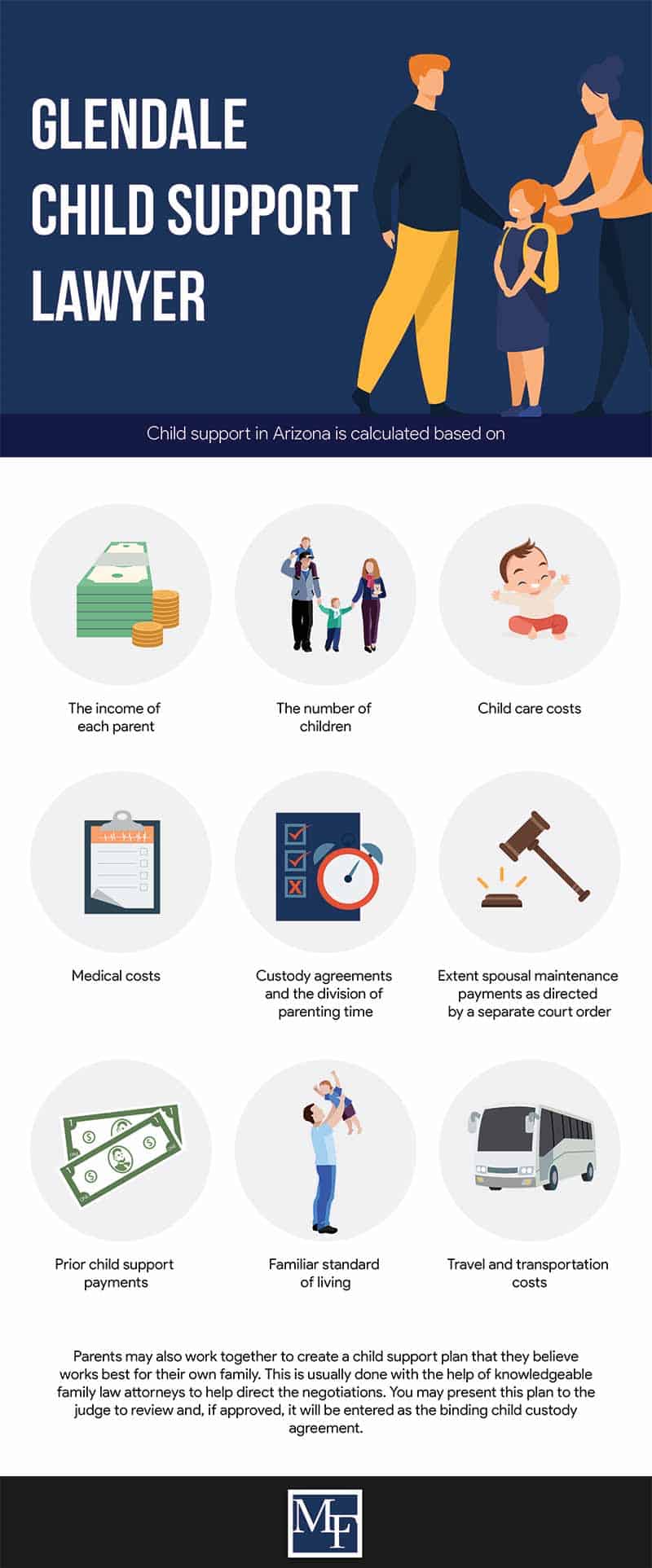 Parents may also work together to create a child support plan that they believe works best for their own family. This is usually done with the help of knowledgeable family law attorneys to help direct the negotiations. You may present this plan to the judge to review and, if approved, it will be entered as the binding child custody agreement.
How Long Do Child Support Payments Last?
Arizona has a few common scenarios for the end of child support payments, but it is crucial that you know that the court determines the end date of your child support order. While most child support obligations expire at the end of the month of your child's 18th birthday, this is not always the case.
If they are not due to graduate high school by their 18th birthday, for example, support payments may be set to continue through their 19th birthday or graduation month instead.
Likewise, children that have significant physical or mental disabilities require more support from parents which may result in the child support obligation continuing after they have turned 18.
Most child support payment plans will terminate after the child turns 18, but you should never assume that yours is the same. When the court sets your support obligation they will include the terms for when it comes to an end. Be sure you understand these terms and know exactly what your responsibility is.
Can You Modify Child Support Orders?
Child support modification is allowed under Arizona law so long as you can demonstrate a change in circumstances that warrants an alteration to your child support plan. Child support is intended to equitably divide the expenses of raising a child, such as basic living expenses, housing costs, or extracurricular activity fees, between each parent.
If there has been a change in any of the child care expenses or in the income level of either parent, you may be eligible for a modification to your order. An experienced Glendale divorce attorney will be able to help you present your argument to the judge and give you a better chance of successfully modifying your financial obligation.
Arizona law requires the change in circumstances to be "substantial and continuing", meaning that it must have a long-term impact. This is set in place to prevent modification requests for minor setbacks and short-term changes in either parent's life. Examples of changing circumstances that may lead to a modified child support order include:
A change in income for either parent
A change in the division of parenting time
A change in daycare costs or medical expenses
How a Child Support Attorney Can Help
Divorce proceedings can be difficult times for many couples. This can be significantly worsened by the inclusion of child custody issues and child support disagreements. An experienced child support lawyer will be able to provide you with legal guidance throughout the process to help you make confident decisions regarding your unique situation. Our family law attorneys can help you:
Protect your legal rights - You don't know all of the ins and outs of family law and the myriad child support issues you could run into. It is in your best interest to have an expert on your side to help protect you from violations of your rights.
Negotiate your child support payments - You have likely never had to negotiate a child support plan before. Why risk-taking on unfair terms on your support obligation? An experienced family law attorney can negotiate on your behalf to ensure that your payment plan is in your best interest.
Provide help in implementing the support plan - Mediation can be an invaluable tool throughout this process to help avoid conflict. Skilled family law lawyers can serve as mediators to help in setting up the details surrounding the child support plan, such as payment dates and forms. The goal is to reach amicable solutions to avoid a difficult legal battle through a cooperative approach.
At Monahan Law Firm, our family law attorneys can help you with every stage of the child support process. Whether you are working to negotiate a new child support obligation, are looking to modify an existing one, or are in need of legal representation in court, our legal team has the experience and skill you will need.
Contact us today to schedule an initial consultation for your case.