Many people tend to delay estate planning because it can seem daunting and it may be hard to think about what happens after your passing. However, it is a necessary step to give your beneficiaries peace of mind and to protect your assets. At Monahan Law Firm, our Glendale estate planning lawyers are dedicated to a personalized and long-term relationship with our clients. We are here to support you with dedicated and competent legal advice so that you can create an effective estate plan.
Glendale Estate Planning We Can Help With
Estate planning is a thoughtful and considerate action for your family. A personalized estate plan clearly outlines how your assets should be managed in your absence. You are removing the responsibility of tough decision making, costly procedures, and asset division from your loved ones. Estate planning encompasses several elements including:
Will Planning
Everyone needs a will. A will is a comprehensive outline of a person's wishes upon their death. A will leaves clear instructions on how assets should be divided amongst heirs and/or donated to charitable organizations. The care for small children is also outlined in a will, as well as burial and funeral arrangements. 
A lawyer can assess your finances, real estate, possessions, and legacy to advise you on the conditions that need to be outlined in your estate plan documents. They will be able to help you protect your assets, while also providing a financial plan for your family after your passing.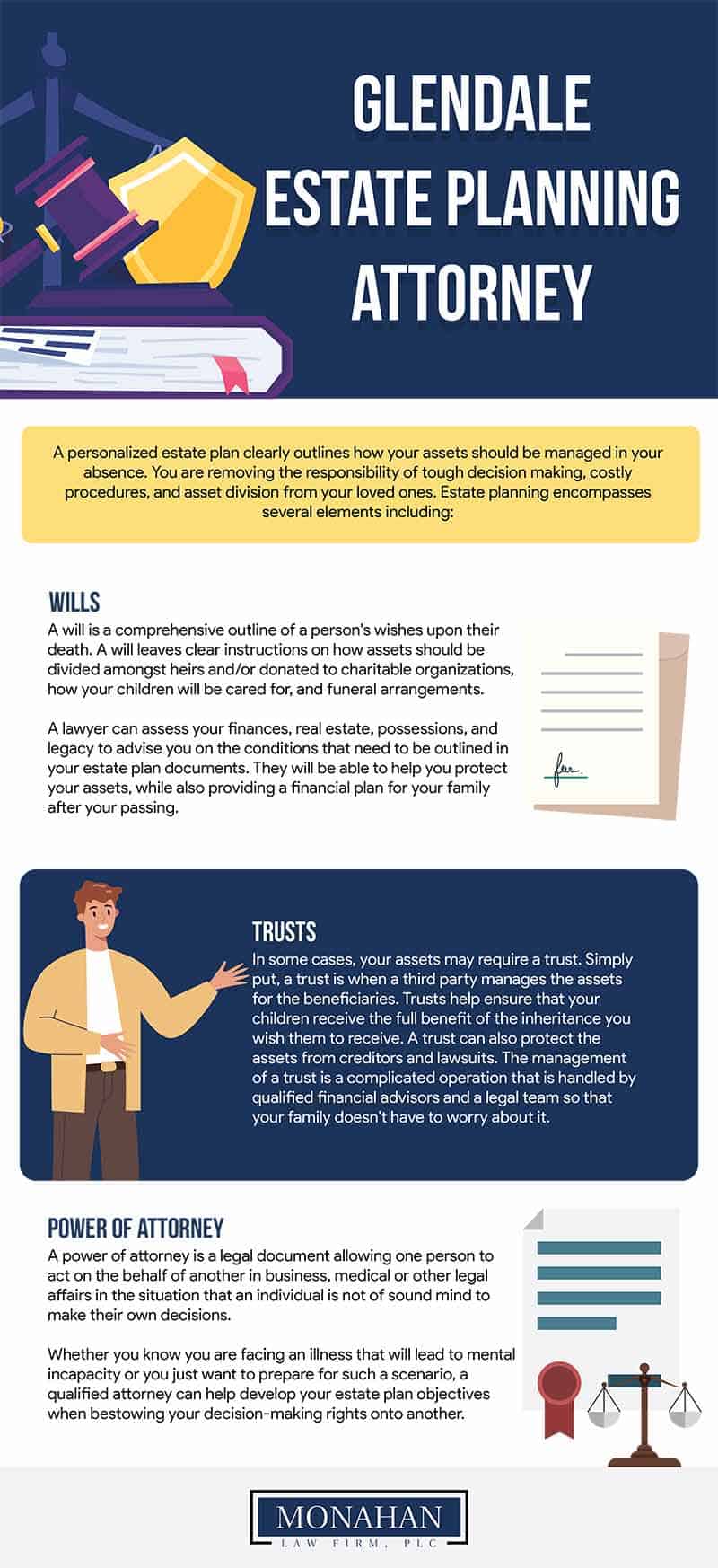 Though it may be unpleasant to think about, it is never too early to write a will. In the event of your untimely death, you should relieve your family of the burden of having to guess your wishes and alleviate some of the burdens of a lengthy probate process. In the state of Arizona, the probate process is required unless there is a trust or beneficiary listed for all assets. This means a court will preside over the transfer of assets and debts.
An experienced attorney can provide legal guidance on developing a living will as well. A living will outlines what to do in the situation of a medical condition that leaves you without the ability to make informed decisions on your own behalf. This can outline care providers and asset distribution under various circumstances. 
Trusts
In some cases, your assets may require a trust. Simply put, a trust is when a third party manages the assets for the beneficiaries. Trusts help ensure that your children receive the full benefit of the inheritance you wish them to receive. 
The third-party will manage all income and expenditures on the accounts. A trust can also protect the assets from creditors and lawsuits. The management of a trust is a complicated operation that is handled by qualified financial advisors and a legal team so that your family doesn't have to worry about it. 
You may also consult with an estate planning attorney about creating a living trust. Living trusts allow your assets to be managed for the benefit of an eventual beneficiary while you are still alive. This makes the process of transferring your assets to your heirs much easier after your passing. Living trusts are also a way to avoid the probate process. 
A knowledgeable attorney can answer any further questions you may have about your estate planning options. 
Power of Attorney
Naming a power of attorney also falls under the umbrella of estate planning services. A power of attorney is a legal document allowing one person to act on the behalf of another in business, medical or other legal affairs in the situation that an individual is not of sound mind to make their own decisions.
Whether you know you are facing an illness that will lead to mental incapacity or you just want to prepare for such a scenario, a qualified attorney can help develop your estate plan objectives when bestowing your decision-making rights onto another. 
Meet With Our Estate Planning Attorneys
From the most basic estate plan to more complicated estate planning, our estate lawyers at Monahan Law Firm are dedicated to considerate and compassionate legal guidance for these sensitive, but necessary matters. If you are ready to establish legal representation for your estate planning journey, contact our Glendale team today to schedule an appointment.